The Role of Kyai in Pesantren Business Development: A Case Study on Leadership in The Traditional Pesantrens
Supriyanto Supriyanto Supriyanto

Universitas Islam Malang

Zulfikar Zulfikar

Informatics

Sukron Makmun

Salut Muhiddin
Keywords:
kyai leadership, business management, business unit of pesantren, multi sites
Abstract
The objective of this research is to explore the role of kyai leadership in developing pondok pesantren business unit to analyses the contribution of kyai in economy institution. This research is multisite case study in two pondok pesantren that are Sidogiri Pasuruan and Minhajut Thullab Banyuwangi. Analysis units of this research are kyai, teacher, ustadz, cooperative staffs, santri (student), society around pondok pesantren and pesantren cooperation members. The data were conducted by interview, observation, and document analysis. The design of this research is qualitative design applying multi sites case study technique model. Data analysis and data validity test using triangulation i.e source, method and time triangulation. The research shows that kyais have an important role in developing business unit of pesantren.
References
Aedi, N (2014) Leadership Succession In Pesantren. Jurnal Pendidikan Islam. UIN Sunan Gunungjati Bandung. Vol. 1, No. 2, December 2014 M/1436 H.

Ahsan, Muhamad and Thoyib, Armanu and Sudiro, Achmad and Indrawati, Nur Khusniyah (2013) The Role of Leadership and Entrepreneurial Characteristic Of Kyai In Developing Entrepreneurship: An Ethnography Study At Pesantren Sunan Drajat Lamongan. In: 1st Asia Pacific Management and Business Application. International Conference on Management and Business Science, September 2013, Batu Malang.

Fauzi. Muhammad Latif. (2012) Traditional Islam in Javanese Society: the Roles of Kyai and Pesantren in Preserving Islamic Tradition and Negotiating Modernity. Journal of Indonesian Islam. Dapat diakses pada laman: https://www.neliti.com/publications/94521/traditional-islam-in-javanese-society-the-roles-of-kyai-and-pesantren-in-preserv

Fathan, Ach. (2004). Makna Pembangunan Pertanian bagi Kyai, Santri dan Petani di Madusari Malang: Studi Proses Perubahan Sosial Bidang Pertanian dalam Perspektif Fenomenologi. Surabaya. Disertasi; Program Pasca Sarjana Universitas Airlangga Surabaya.

Farida, E., & Supriyanto, S. (2021). Entrepreneurial Spirit Dipengaruhi oleh Gaya Belajar Akomodator pada Pembelajaran Kewirausahaan. Jurnal Pendidikan Edutama, 8(2), 125-132.

Hayana, Nur dan Wahidmurni. (2019). Kepemimpinan Kiai dalam Memberdayakan Kewirausahaan Santri. Jurnal Manajemen Pendidikan Islam (J-MPI), 4 (1). pp. 1-8. ISSN 2477-6467.

Khoirudin, Moh Lutfi. (2021). Kiai Sebagai Aktor Pendidikan Kewirausahaan Islami di Pondok Pesantren Sidogiri. URI: http://repository.unisma.ac.id/handle/123456789/2149

La Dana, A., Sunaryo, H., & Supriyanto, S. (2022). The Effect of Locus of Control, Framing, Pressure of Obedience and Auditor's Competency on Audit Judgment. Budapest International Research and Critics Institute (BIRCI-Journal): Humanities and Social Sciences, 5(2), 9680-9692.

Pardiman, P., & Supriyanto, S. (2021). Strategi Membangun Kewirausahaan Santri Menggunakan Model Pendidikan Taxonomi Bloom. BISNIS: Jurnal Bisnis dan Manajemen Islam, 9(1), 107-126.

Moleong, Lexy J. (2005). Metodologi Penelitian Kualitatif. Edisi Revisi. Bandung: Remaja Rosda Karya.

Mustaqim, Ainun (2012) Peran kepemimpinan Kiai dalam Mengimplementasikan Program Keterampilan Kewirausahaan di Pondok Pesantren Ushulul Hikmah Al Ibrohimi Manyarejo Manyar Gresik. IAIN Sunan Ampel Surabaya. Dapat diakses pada laman: http://digilib.uinsby.ac.id/20348/

Nadjib, Moh. (2009). Makna Pembelajaran Kewirausahaan Berbasis Agrobisnis, Semangat Kerja dan Kemandirian Komunitas Pondok Pesantren (Studi Kasus pada pondok pesantren Sirojut Tholibin Blitar). Disertasi. Pogram Studi Pendidikan Ekonomi: Program Pasca Sarjana. Universitas Negeri Malang.

Naufal Ahmad Rijalul Alam. (2018) Strengthening Leadership Culture (The Role of Kyai in Indonesian Pesantren). At Ta'did. Journal of Pesantren Education. Volume 13 Nomor 1. Dapat diakses pada laman: https://ejournal.unida.gontor.ac.id/index.php/tadib/article/view/1986

Shaffer, Ron. Steve Deller. Dave Marcouiller. (2006). Community Economics Development. Linking Theory and Practice. Second Edition. UK. Oxford. Blacwell Publshing. https://www.cabdirect.org/cabdirect/abstract/20043156951

Supriyanto, S., Alisha, W. P., Yulhendri, Y., & Sudjatmoko, A. (2022). SPIRIT BISNIS LEMBAGA KEUANGAN PONDOK PESANTREN SIDOGIRI DALAM PERSPEKTIF PENDIDIKAN KEWIRAUSAHAAN. Research and Development Journal of Education, 8(1), 125-137.

Supriyanto, S., Yulhendri, Y., Safitri, D., Sudjatmoko, A., & Slamet, A. R. (2022). Kontribusi Kepemimpinan Kiai Dalam Pengembangan Kewirausahaan Pondok Pesantren. Jurnal Inovasi Pendidikan Ekonomi (JIPE), 12(1), 1-11.

Supriyanto (2015) Kepemimpinan Kiai Dalam Pengembangan Organisasi Ekonomi di Pondok Pesantren. Jurnal Metafora: Education, Social Sciences and Humanities Journal. Jilid 2. Terbitan 3. Halaman: 60-71 https://scholar.google.com/citations?view_op=view_citation&hl=id&user=CBIhpi0AAAAJ&citation_for_view=CBIhpi0AAAAJ:Tyk-4Ss8FVUC


Yin, Robert K. (2008). Studi Kasus, Desain dan Metode, Terjemahan oleh M. Jauzi Mudzakir. Jakarta: Rajawali Pers.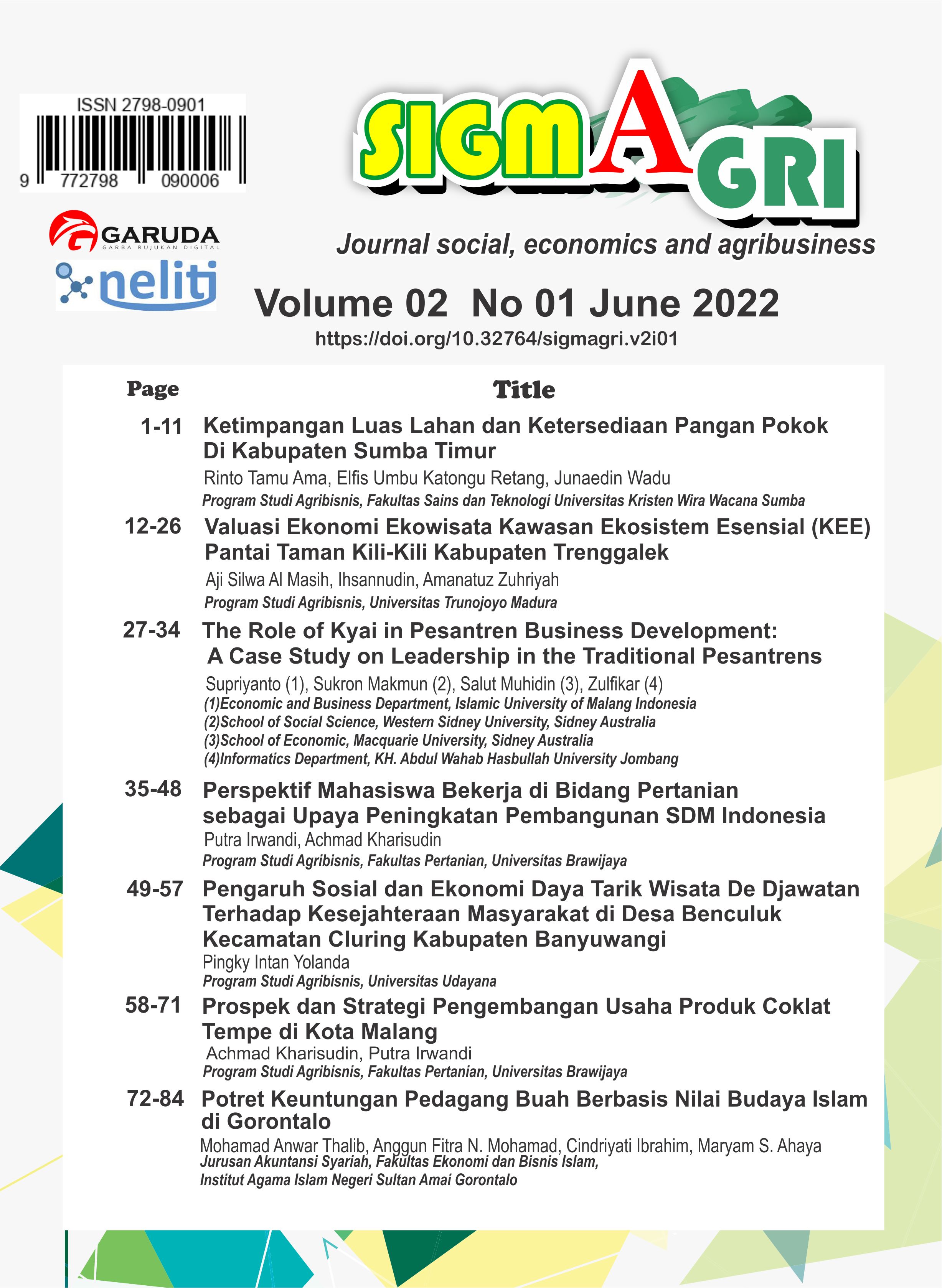 How to Cite
Supriyanto, S., Zulfikar, Z., Makmun, S., & Muhiddin, S. (2022). The Role of Kyai in Pesantren Business Development: A Case Study on Leadership in The Traditional Pesantrens. Sigmagri, 2(1), 27-34. https://doi.org/10.32764/sigmagri.v2i01.671