ANALISIS SALURAN PEMASARAN KERIPIK GADUNG (Dioscorea hispida L.) PADA USAHA HOME INDUSTRY DUA PUTRA JAYA DI KABUPATEN JOMBANG
Muhammad Amir Ma'sum

Universitas KH.A.Wahab Hasbullah

Umi Kulsum Nur Qurmariah

UNIVERSITAS KH A WAHAB HASBULLAH
Keywords:
Saluran pemasaran, Margin pemasaran, Bagian harga yang diterima produsen,, Efisiensi pemasaran keripik gadung
Abstract
This study aims to determine the form of marketing channels, marketing margins, share of the price received by producers and marketing efficiency of gadung chips in the "Dua Putra Jaya" home industry in Jombang Regency. This study uses a quantitative descriptive method. Determination of sampling is done purposively. Respondents include producers, retailers, collectors, and consumers. Data were obtained from direct observation in the field through interviews, distributing questionnaires and tracing. The results showed that the marketing channel for Gadung chips "Dua Putra Jaya" consists of three marketing channels, namely; zero-level channels consist of producers (consumers, Level 1 channels consist of producers( retailers (consumers; Level 2 marketing channels consist of producers( collectors( retailers( consumers. The total margin on the zero level channel is non existent, the level 1 marketing channel is IDR 20,000 and the level 2 marketing channel is IDR 20,000. The share of the price received by on the zero level channel does not exist, the price share on the level 1 channel is 75%; while the channel level 2 is 55.5%. There is no efficiency value in the zero level marketing channel, the marketing channel level 1 is 31.6% and the marketing channel level 2 is 35.5%, so that it can be seen that the marketing channel in channel one is more efficient because of the marketing costs incurred in channel one. less first.
References
Anwar, N., Hadayani, & Muis, A. 2018. Analisis Pemasaran Keripik Ubi Jalar pada Usaha Sumber Rezeki di Kota Palu. Pembangunan Agribisnis, 1(1), 2634.
Arbi, M., Thirtawati, T., & Junaidi, Y. 2018. Analisis Saluran Dan Tingkat Efisiensi Pemasaran Beras Semi Organik Di Kecamatan Rambutan Kabupaten Banyuasin. JSEP (Journal of Social and Agricultural Economics), 11(1), 22.
Barat, K. A. 2016. Analisis saluran dan margin pemasaran kue tradisional khas aceh pada ud. meugah di gampong langung kecamatan meureubo.
District, T., & Regency, K. 2019. Analisis marjin pemasaran keripik ketela ungu di kecamatan tawangmangu kabupaten karanganyar. 3, 568576.
Fikri, M. S. 2015. Kelurahan Tettikenrarae Kecamatan. 171.
Gandhy, A. 2019. Analisis Saluran Pemasaran dan Efisiensi Pemasaran Produk Susu Sapi Perah ( Studi Kasus : Koperasi Produksi Susu Bogor ) Oleh : 43.
Ramlah, S., & Handayani. 2019. Analisis Pendapatan Dan Pemasaran Cokelat Pada Industri "Sakaya Cokelat" Di Kota Palu. 7(April), 260–266.
Sutoni, A., & Masrofah, I. 2018. Konsep Pengembangan Inovasi Keripik Gadung, Dalam Pemberdayaan Masyarakat Di Desa Kutawaringin, Kecamatan MandSe, Kabupaten Cianjur. IKRA-ITH Abdimas, 1(2), 7179
Aziz, S., Rusman, Y., & Sudrajat, S. 2014. Halaman | 125. Jurnal Ilmiah Mahasiswa AGROINFO GALUH, 2(2), 125130.
Domiah, A. 2016. Analisis Saluran dan Efisiensi Pemasaran Industri Perikanan Tangkap Tuna Skala kecil di kota Bitung, Skripsi. Program Studi Agribisnis Fakultas Pertanian Universitas Jember.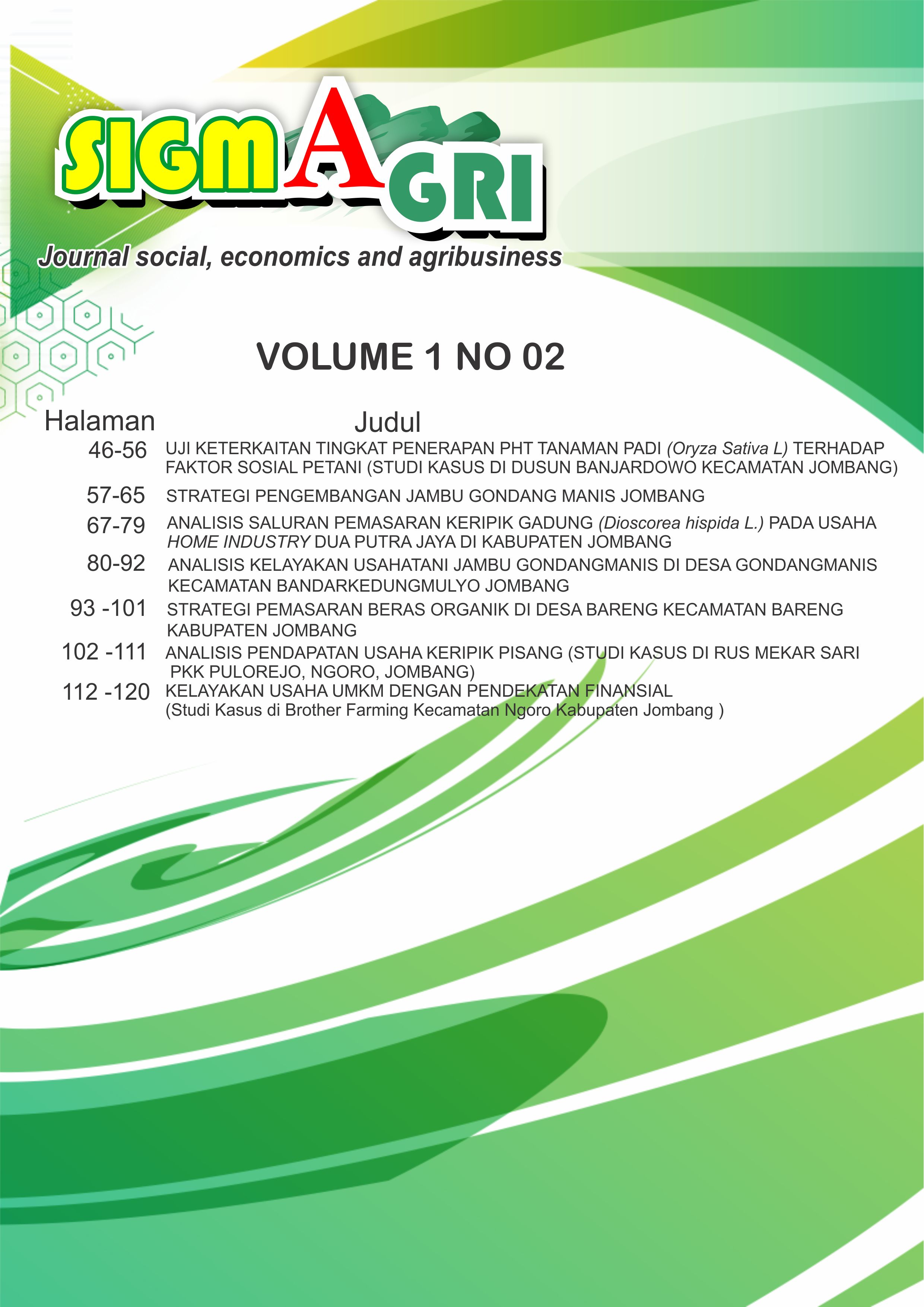 How to Cite
Ma'sum, M., & Qurmariah, U. (2021). ANALISIS SALURAN PEMASARAN KERIPIK GADUNG (Dioscorea hispida L.) PADA USAHA HOME INDUSTRY DUA PUTRA JAYA DI KABUPATEN JOMBANG. Sigmagri, 1(02), 67-79. https://doi.org/10.32764/sigmagri.v1i02.644